POSITION PROFILE
POSITION TITLE
:           Senior Project Architect/Associate
REPORTING TO
:             Principal, Charles Bloszies
LOCATION
:                San Francisco, CA 94108 (Union Square)
OUR CLIENT
:              Office of Charles F. Bloszies, FAIA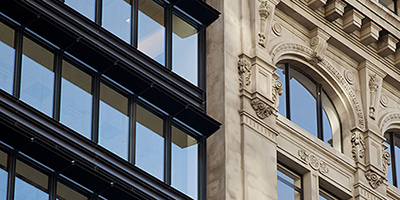 Website:
http://www.archengine.com/
The Office of Charles F Bloszies is a highly specialized, award winning, architectural firm, engaged in urban infill design. Our work is at the forefront of the trend to repurpose existing buildings, rather than tear down and rebuild anew. We fuse refined modern forms onto and into existing structures of all types and ages. Our projects are mostly in San Francisco, on highly visible sites, many of which you can walk to from our office. In business for over twenty five years, we are interested in how "new" meets "old." Our portfolio consists mostly of new interventions inside of, adjacent to, or on top of, old buildings, some of which are recognized historic structures. The scale of the projects we have completed varies widely, as does the range of uses contained in the buildings we have designed. Firm Principal, Charles Bloszies, is the author of Princeton Architectural Press best seller: "Old Buildings, New Designs – Architectural Transformations", a recent book on the topic of how new design successfully meets old architecture. He has recently been elevated to membership into the AIA College of Fellows. Working at our office means being part of an intimate group of thoughtful, creative problem solvers, within a company culture of respect, teamwork and client satisfaction. You will work at a firm known for practical, yet innovative design. We are seeking a well-educated and highly skilled technical architect with sufficient experience to manage projects from the schematic design stage, through construction administration.
SCOPE AND RESPONSIBILITIES
: The Senior Project Architect will embrace the existing design direction of the firm, assisting the firm principal in managing junior designers during the initial stages of design. You will be responsible for contributing to and managing projects from the design development phase, through construction administration. Responsibilities include, but are not limited to:
Plan and conduct work in all phases of a project, including participating in preparation of preliminary design work.
Participate, and/or lead the team in the technical development and coordination of the final design & contract documents.
Coordinate construction documents.
Participate in client meetings and proposal development.
Evaluate, select, adapt, and modify standard construction components and systems.
Coordinate the layout, design, and drafting of project drawings based on established office standards.
Coordinate specifications produced by various consultants.
Promote technologies and methodologies to create innovative approaches and to improve the technical quality of projects.
Mentor less experienced architects; assist in their career development.
EXPERIENCE/SKILLS REQUIRED
: Minimum of ten years of experience working in a professional architecture and/or engineering design office, with progressive experience developing architectural design and contract documents. Complete and thorough mastery of AutoCAD. Extensive construction documents experience. Keen interest in the crafting of working drawings. Experience coordinating work of engineering consultants. Knowledge of San Francisco building code and permitting process. Self-motivated, flexible personality. Proficient design skills. Experience navigating the San Francisco entitlement process is a plus. Must have worked on projects with construction costs of at least $10 million. Knowledge of urban reuse and infill design is essential. Strong technical aptitude, organizational and detail skills. Mastery of technical aspects of architecture. Ability to use technology and methodologies to create innovative approaches to building design. Consistently strive to improve technical quality of our work product. Understanding of sophisticated design approaches. Understanding of client's perspective. Appreciation of engineering's role in architectural design. Must be able to translate design concepts into a fully detailed construction document set. The qualified candidate should also have experience in field observation, knowledge of building materials, specifications, construction techniques, experience with building codes, zoning and have sufficient knowledge of engineering disciplines. Experience and interest in business development is a plus. Management/mentoring experience is a plus. LEED accreditation a plus.
ATTRIBUTES/CAPABILITIES
: Interested in working in urban infill San Francisco projects supporting the principal's successful architectural style. Excellent and clear interpersonal, written and verbal communication skills. Honest, forthcoming. Stable, even-keel personality; calm demeanor. Comfortable in a calm office environment. Have strong knowledge of financial metrics related to project management.
EDUCATION/CREDENTIALS
: Minimum of Bachelor's degree in Architecture. Master's degree is a plus. Registered Architect is a plus.
REWARDS/BENEFITS/COMPENSATION
: Competitive compensation, medical benefits (Blue Shield/HMO), Dental Benefits (PPO), Vision Benefits, Simple retirement plan with 3% matching, vacation, paid holidays, and you will work in a lovely, bright office. Discretionary bonus potential. Opportunity to grow within the position and the firm.
CONTACT INFORMATION:
To be considered for this opportunity, please email your resume, and a brief cover letter indicating your level of interest in the repurposing of existing buildings and urban infill architecture. Feel free to include project/portfolio list or links. Thank you! Lisa K. Locke Locke and KEY Recruiting, Hiring and Consulting Services
We are the source of your hire power.
Mail: P.O. Box 6746, Oakland, CA  94603 Phone/Fax 510-533-2055 Email:
recruiting@lockeandkey.com
Web:
http://www.lockeandkey.com
Flexible recruiting solutions for your KEY hiring needs
LinkedIn:
http://linkedin.com/in/lisalocke
; if you would like to connect, please invite me. Keep our number for the next time you need candidates.
We help companies hire people.