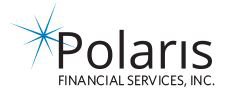 POSITION PROFILE
POSITION TITLE
:           Director of Operations-Registered Investment Advisor firm
REPORTING TO
:             Principal
LOCATION
:                       Corte Madera, CA 94925
OUR CLIENT
:                   Polaris Financial Services Website:
http://polarismarin.com/
Polaris Financial Services is a boutique and growing fee-only independent Registered Investment Advisory firm located in Marin County. We take a holistic approach to exploring financial solutions for our clients. Our primary goal is to help our clients confidently build a sound financial base, and grow their wealth for future success. We help clients manage all aspects of their financial lives by providing objective advice in three key areas: Financial Planning, Investment Management, and Tax Preparation and Consulting. Polaris strives to exceed our clients' expectations.  We accomplish this by providing exemplary customer service.  Our achievements in this respect are not measurable by portfolio performance numbers alone, but by our long-standing relationships with our clients.  We go far beyond simply managing money for our clients.  We are involved in major life decisions, and we feel that this is paramount to our successful business model.  The ideal candidate will commit to developing and maintaining these relationships with our clients by adopting this aspect of our company's office culture. Our company is growing! To help guide our growth and expand our organization's reach, we seek to add a new position of Director of Operations. This person will lead the staff and help create and implement operational strategies for the future of the firm. There is a lot of opportunity for this position as there is much to do.
This is a salaried, full time position with benefits.
The position is posted here: 
http://lockeandkey.com/jobs/JobOpenings/job_opening_152.php
SCOPE AND RESPONSIBILITIES
:
Position Overview:
The Director of Operations is responsible for overseeing the daily operational activities of the organization in accordance with policies, goals and objectives of the firm.  We seek a strong leader who will supervise staff members in the performance of their duties, and who has the ability to establish and implement efficient processes and procedures in a growing and dynamic environment.
Responsibilities include, but are not limited to:
Create a solid structure for the office and oversee policies and procedures, allowing the Principal to focus on client service and company growth. Partner with the Principal in setting the tone of the firm and modeling desired behaviors; create and implement operational policies and initiatives. Create and manage the Human Resources components and functions, including employee evaluation program, compensation structure, clarify roles and job descriptions, manage benefits, hiring, HR legalities, etc. Create measurements and matrices to track and manage the productivity of employees' and the firm's overall performance. Supervise, mentor, coach and lead 3-5 employees. Help provide direction and development to employees to reach their full potential in both career growth and contribution to the firm. Cross training of employees. Implement best practices with existing technology. Expand the use of our CRM database. We use Redtail Technology:
http://www.redtailtechnology.com/products/crm.aspx
Work with the Chief Compliance Officer to manage and monitor the firm's practices for regulatory compliance. Continuously seek to improve, manage and track the effectiveness of customer service offerings. Periodic client contact as appropriate.
EXPERIENCE/SKILLS REQUIRED
:
We realize that every interested candidate might not have all of the desired experience, but here is what we are looking for in terms of experience and skills… the more you have, the better!
Ten++ years of excellent management and operations experience in the financial services related industry. Experience working in a Registered Investment Advisor (RIA) firm is a plus. Superior interpersonal skills, including clear and concise verbal and written communication skills.
ATTRIBUTES/CAPABILITIES
: Descriptors of this financial operations professional include: We are a small company and need someone who is a multi-tasker and interest in wearing many hats in the office and helping where needed. Hands-on. Involved with the team. Enthusiastic, dynamic, involved, result-oriented. Calm, compassionate, down-to-earth person; cares about clients and co-workers. Consistent positive attitude; we have a great office and we want to maintain our culture. Interest in and passion for strengthening the operations and structure of the firm. Interest in the dynamics and "growing pains" of a firm; not just maintenance of status quo. Solid strategic thinker, problem solver and decision maker. Proven effective management skills. Strong human relations abilities; flexible, open-minded, diplomatic. Pro-active, self-starter. Organized, with excellent orientation to details, including tracking, planning, calendaring and measuring. Demonstrated ability to drive execution and achieve results. Team player with ability to supervise and coach others. Desire and ability to work successfully in a small company environment. Maintain confidentiality at all times.
EDUCATION/CREDENTIALS
: Bachelor's degree, preferably with a financial or business-related major.
REWARDS/BENEFITS/COMPENSATION
: Opportunity to help set the strategy and operations for a successful, growing organization. Salary based on experience and skills. Benefits include: company paid medical insurance, 401k plan with 3% matching, paid vacation, 10 paid holidays, sick leave, and discretionary profit sharing. Positive environment in a pleasant office setting.
ADDITIONAL NOTES:
** Any offer of employment will be subject to a clean U-4 (if applicable) and third-party background check**
TO APPLY:
Please email your resume and cover letter with POLARIS in the subject line. Local candidates only. Qualified resumes with cover letter will receive notification of receipt. Please do not send your resume to the client directly. Lisa K. Locke Locke and KEY Recruiting, Hiring and Consulting Services
We are the source of your hire power.
Mail: P.O. Box 2873, Alameda, CA  94501 Phone/Fax 510-533-2055 Email to send resume/cover letter:
lklocke@lockeandkey.com
Web:
http://www.lockeandkey.com
Flexible recruiting solutions for your KEY hiring needs
LinkedIn:
http://linkedin.com/in/lisalocke
; if you would like to connect, please invite me. Keep our number for the next time you need candidates.
We help companies hire people.