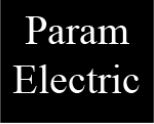 POSITION PROFILE
POSITION TITLE
:    Journeyman Electrician
REPORTING TO
:     President
LOCATION
:               You will report to various job sites around the bay area.
OUR CLIENT
:           Param Electric -
Enhanced Interiors
Website:
http://paramelectric.com/
Serving the broader bay area's lighting and electrical needs for over 25 years, Param Electric is a top tier Bay Area company, with primarily large, sophisticated RESIDENTIAL projects. We seek a Journeyman Electrician to run/manage electrical projects on site, for high-end, custom homes. Projects are located in San Francisco, Marin, Peninsula, San Jose and East Bay.
This is a full time position with benefits.
The position is posted here:
http://lockeandkey.com/jobs/JobOpenings/job_opening_170.php
SCOPE AND RESPONSIBILITIES
: We are seeking a professional electrician, who is motivated, goal oriented, state certified, and desires a leadership role and upward mobility in the company. We hope to find someone who is looking for a career, and not just a job. In this position, you will serve custom home, high-end residential clients by expertly installing, servicing, repairing and replacing electrical and electronics systems in their upscale homes.
EXPERIENCE/SKILLS REQUIRED
:
We realize that every interested candidate might not have all of the desired experience, but here is what we are looking for in terms of experience and skills… the more you have, the better!
Must have California Electrical Certification. Minimum five years of hands-on electrical experience. Minimum three years running electrical jobs as a lead.
ELECTRICAL KNOWLEDGE
Knowledge of Code / Title 24 Ability to Read Plans Install Fixtures, Conduits, Switches, Service Panels, etc. Install all types of wiring systems (conduit and cable) * Are you enthusiastic and well organized? * Do you have excellent verbal, writing and computer skills? * Are you well versed in the NEC and local codes? * Do you know the requirements of Title 24? * Are you anxious to learn and grow professionally? * Are you interested in Lighting Controls, Audio/Video/Home Theater, and Integration? If so, come join us!
You must have:
Your own hand tools Reliable transportation Clean DMV Record Valid Calif Driver's License
We will provide:
Power Tools / Ladders (other supplied as needed)
ADDITIONAL ATTRIBUTES/CAPABILITIES
: Good communications skills. Excellent customer service orientation. Professional appearance and demeanor at all times. Attention to detail. Commitment to safety, both on the job site and while driving. A desire to lead and mentor others. Positive, supportive, collaborative attitude.
EDUCATION/CREDENTIALS
: All formal education is a plus.
REWARDS/BENEFITS/COMPENSATION
: Are you looking for: *Great Pay and Benefits *Interesting and Challenging projects *Independence with Great Support *Experienced Team Mates *Unlimited Career Advancement We are looking for You!
Specific Benefits include:
Competitive pay Bonus potential Health benefits contribution Paid vacation Paid Sick time Paid Holidays Retirement plan/401k with company contribution Fuel/tolls reimbursement and vehicle maintenance stipend provided for job related mileage
TO APPLY:
Please email your resume and cover letter with Electrician in the subject line. Local candidates only please. Qualified resumes with cover letter will receive notification of receipt. Please not send your resume to the client directly. Lisa K. Locke Locke and KEY Recruiting, Hiring and Consulting Services
We are the source of your hire power.
Mail: P.O. Box 2873, Alameda, CA  94501 Phone/Fax 510-533-2055 Email to send resume/cover letter:
lklocke@lockeandkey.com
Web:
http://www.lockeandkey.com
Flexible recruiting solutions for your KEY hiring needs
LinkedIn:
http://linkedin.com/in/lisalocke
; if you would like to connect, please invite me. Keep our number for the next time you need candidates.
We help companies hire people.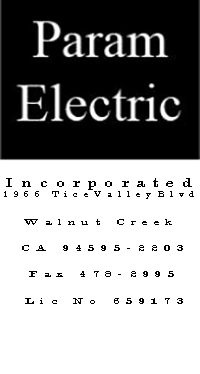 Those businessmen will prosper whose business protects as their own, the interests of others.
Tirukural v.120
Mission Statement –
Param Electric is dedicated to providing professional service to Contractors, Architects, Designers and Owners. We are known by our outstanding responsiveness, technical ability, business integrity, cooperative spirit and personal ethics. We view our work as a service to the community not just an occupation. Our prosperity is assured by the gratitude of those we serve well.
Personal Goals and Advancement –
The goal of everyone at Param Electric is personal improvement and career advancement through continuing education and ensuring the growth and prosperity of the company. Opportunities should be sought to increase personal skills and technical knowledge. There is no upper limit for those who demonstrate leadership, act with integrity and willingly accept responsibility. It is up to each individual to pursue, master and demonstrate the skills and abilities necessary to call themselves a Journeyman or Master Electrician.
Minimum Expectations of a Lead Electrician –
Obtain/Maintain State Certification for General Journeyman
Thorough knowledge of NEC, local code amendments, and CA Title 24 requirements
Thorough knowledge of OSHA requirements related to our trade
Thorough knowledge of Materials and Tools needed for each project type
Thorough knowledge of Blueprint reading and Schematic interpretation
Ability to Run multiple jobs independently with minimal support
Ability to Schedule own work load
Ability to Assess timelines and crew requirements
Ability to Assign and assess work allocation
Ability to Oversee production goals
Ability to Oversee safety policies
Ability to Monitor and promote code compliance
Ability to Train employees
Ability to Schedule and attend inspections
Ability to Advance plan work and major parts deliveries
Ability to Perform Service Calls
Ability to Negotiate/record/report Changes
Ability to Confirm delivered parts orders – order deficiencies immediately
Ability to Create panel directories and trim lists (at rough-in)
Ability to Install, configure and troubleshoot wireless networks
Ability to Attend Site Visits for new work
Ability to Help estimate new projects
Performance Review Topics –
Responsibility & Trust **
Proficiency – see list above
Profitability (<60% direct cost)
Productivity and efficiency
Workmanship (quality, errors, waste, damages, )
Leadership
Recruiting
Certification