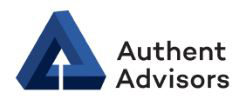 POSITION PROFILE
POSITION TITLE: Administrative Assistant, Financial Services
REPORTING TO: Client Services Administrator
LOCATION:  Corte Madera, CA 94925 (Marin County)
OUR CLIENT: Authent Advisors, Inc.

Website: www.authentadvisors.com
Authent Advisors is a boutique and growing fee-only, independent Registered Investment Advisory firm, located in Marin County. We take a holistic approach to exploring financial solutions for our clients. Our primary goal is to help our clients confidently build a sound financial base, and grow their wealth for future success. We help clients manage all aspects of their financial lives by providing objective advice in three key areas: Financial Planning, Investment Management, and Tax Preparation and Consulting.
Authent strives to exceed our clients' expectations.  We accomplish this by providing exemplary customer service.  Our achievements in this respect are not measurable by portfolio performance numbers alone, but by our long-standing relationships with our clients.  We go far beyond simply managing money for our clients.  We are involved in major life decisions, and we feel that this is paramount to our successful business model.  The ideal candidate will commit to developing and maintaining these relationships with our clients by adopting this aspect of our company's office culture.
Our company is growing! To help guide our growth and expand our organization's reach, we seek to add a new Administrative Assistant to our team. This person will support many aspects of the company, including client interaction, and general office administrative support.
This is an hourly, PART-TIME or FULL-TIME position with benefits. We are open to what hours you work, depending on your needs. Office hours are: 8.00am to 5.00pm, Monday-Friday.
The position is posted here: 
http://www.lockeandkey.com/jobs/JobOpenings/job_opening_205.php
SCOPE AND RESPONSIBILITIES:
Position Overview: This is a position with wonderful growth opportunity. You will learn the business, and help with miscellaneous administrative and client related duties. As you grow in the position, you will be involved directly with clients and their needs. You will help out during tax season and there are many additional duties you can undertake, depending on your skills and interests.
Additional duties and responsibilities may include, but are not limited to supporting these and other tasks:
Greet clients who come to the office.
Answer phones when necessary.
Order office supplies.
Tax return assembly.
Disseminating information that clients' submit through online portal.
Handle sensitive and urgent information from clients, personnel, and other contacts while exercising appropriate judgment when responding.
Type, mail, copy, and scan correspondence.
Data entry.
EXPERIENCE/SKILLS REQUIRED:
The company realizes that every interested candidate might not have all of the desired experience, but here is what they are looking for in terms of experience and skills… the more you have, the better!
Minimum of 2-5 years of prior administrative experience required; experience with a professional services firm and/or financial services firm is preferred.
Advanced proficiency in Microsoft Word, Excel, , and Outlook
Experience with customer databases/CRM is a plus.
Excellent verbal and written communication skills.
Capability to quickly learn and apply new technology
Ability to work independently.
Ability to work in a busy environment, especially during tax season.
Flexibility to work overtime as needed, during tax season.
Any exposure to tax preparation is a plus.
ATTRIBUTES/CAPABILITIES:
Descriptors of this person include:
Excellent customer service attitude.
Professional demeanor at all times.
Organized. VERY detailed.
Multi-tasker.
Collaborative, team player.
Enthusiastic, result-oriented.
Calm, compassionate, down-to-earth person; cares about clients and co-workers.
Consistent positive attitude and friendly disposition; we have a great office, and we want to maintain our culture.
Interest in growing in your position.
Interest to help out wherever needed. Likes to be busy.
Ability to be discreet and handle confidential, sensitive information at ALL times.
EDUCATION/CREDENTIALS:
College degree is preferred, but not required. All college education is a plus and financial related classes are a plus.
REWARDS:
Opportunity to work for a successful, stable, long-standing company with a great group of people and supportive team, helping clients plan for a secure financial future.
Salary based on experience and skills.
Type, mail, copy, and scan correspondence. Benefits include: company paid medical insurance, 401k plan with matching, PTO/Paid Time Off, 10 paid holidays, and discretionary profit sharing.
Positive environment in a pleasant office setting.
Complimentary personal tax preparation and financial management, if desired.
PLEASE NOTE: Any offer of employment will be subject to a clean third-party background check
TO APPLY:
Please email your resume and cover letter to Lisa Locke, with "Admin" in the subject line.
Local candidates only.
Qualified resumes with cover letter will receive notification of receipt.
Please do not send your resume to the Authent directly.
Lisa K. Locke
Locke and KEY Recruiting, Hiring and Consulting Services
We are the source of your hire power.
Mail: P.O. Box 2873, Alameda, CA  94501
Phone/Fax 510-533-2055
Email to send resume/cover letter: lklocke@lockeandkey.com
Web: http://www.lockeandkey.com
Flexible recruiting solutions for your KEY hiring needs
LinkedIn: http://linkedin.com/in/lisalocke; if you would like to connect, please invite me.
Keep our number for the next time you need candidates. We help companies hire people.