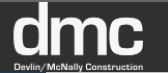 POSITION PROFILE
POSITION TITLE: Project Manager and Project Engineer
REPORTING TO: Principal
LOCATION:  San Francisco, Mission District (free parking)
OUR CLIENT: Devlin McNally Construction (DMC)

Website: http://www.dmcincorporated.com
Devlin McNally Construction (DMC) is an established general construction company specializing in high-end residential construction. We are an innovative company who takes pride in both our employees and our work.  We collaborate with several bay area architects and designers to execute customized spaces tailored for our client's vision and lifestyle. We value providing the highest level of craftmanship to our clients, along with outstanding communication throughout the construction process.
Our employees make Devlin McNally Construction the vibrant company it is today.  Our company culture is one of diversity and progressive practices. We value or employees and their individual talents. We employee a variety of talented folks who embrace a handful of common values: – the importance of teamwork, providing quality work, and enjoying the experience.
DMC is looking to bring on two additional employees: Project Manager and a Project Engineer.
We are looking for an experienced Project Manager to execute our San Francisco and Bay Area projects. 
In addition, we are looking for an ambitious Project Engineer, to support our PM's through project administration.
These are salaried, full time positions, with benefits.
The position information is posted here: http://www.lockeandkey.com/jobs/JobOpenings/job_opening_232.php
SCOPE AND RESPONSIBILITIES:
Project Management Responsibilities Include:
Generate monthly job cost commitment reports, monitor and adjust over/under billings, and anticipate profit projections
Manage project information in a highly organized manner
Manage client expectations
Maintain macro/micro project schedules
Successfully work with sub-contractors throughout the duration of the projects
Submit RFI's and maintain RFI log
Inspect shop drawings
Prepare submittals and managing submittal log
Design resolution and interpretation
Work with project foreman/superintendent, to ensure the project is on schedule/budget
Generate project estimates and bids as needed
Implement and manage project changes and interventions
Assess projects regularly to ensure quality assurance and client satisfaction is maintained
Write and prepare contracts and define scope of work
Estimate and generate change orders for projects
Plan, manage, and attend weekly site meetings
Acquire permits with the building department
Project Engineer Daily Responsibilities Include:
Prepare Owner, Architect, Contractor (OAC) meeting agendas and meeting minutes
Prepare estimates, bids, budgets, and schedules of values in the "CSI" format, from plans and specifications.
Do take-offs, and calculate quantities
Send plans to subcontractors for pricing
Schedule site visits with subs
Write and prepare notes for contracts and define scope of work
Submit RFI's
Prepare submittals
Schedule subcontractors
Material ordering
Acquire permits with the building department
Assist Superintendent in obtaining final letters from architect, engineers and other special inspectors for final permit sign off
Archive completed job documents for storage
Pick up and deliver Samples & Cut sheets as directed by Project Manager/Superintendent
Assemble and help maintain physical job binders and electronic folders
Create and maintain Project Directory
EXPERIENCE/SKILLS REQUIRED:
The company realizes that every interested candidate might not have all of the desired experience, and some training will be provided, but here is what they are looking for in terms of experience and skills… the more you have, the better!
Project Manager Required Skills and Competencies:
3-5+ years as a construction project manager
Experience managing 2-4 projects simultaneously valued at $1.5m- $4m
Proficient at Excel, Word, Outlook, MS Project
Familiarity with A.I.A construction contracts and administration
Previous experience in the San Francisco Bay Area residential construction market
Well versed in reading plans and understanding both architectural and structural details
Understanding of appropriate terminology
Excellent verbal communication and phone skills
General knowledge of means and methods of residential building in California
Understanding of modern and contemporary architecture
Great problem-solving skills
Ability to multi-task and have flexibility in job duties
Bags-on construction experience is a plus
Good relationships with subcontractors and vendors in the Bay Area
Healthy relationships with Bay Area based architects, engineers, and design professionals
Project Engineer Required Skill & Competencies:
• Excellent advanced skills at Excel, Word, and Outlook
• Understanding of and familiarity with the CSI Masterformat of cost coding
• Excellent command of the English language.
• Any work experience or exposure or classes related to the following is a plus: Construction, project management, architecture, craft or related trade work, etc.
• Ability to read plans and understand both architectural and structural details
• Understanding of proper terminology and nomenclature in residential construction
• Excellent verbal communication and phone skills
• General knowledge of means and methods of residential building in California
• Understanding of modern and contemporary architecture and design
• Good problem-solving skills
• Team player; works well with others
• Ability to multi-task and have flexibility in job duties
• Must have excellent, natural organizational skills
• Local San Francisco Bay Area resident with the ability to work in a relaxed casual setting in our Mission District SF office
EDUCATION/CREDENTIALS:
Bachelor's degree preferred for both positions. Construction related major is a plus.
REWARDS/BENEFITS/COMPENSATION:
Health care
401k plan with company matching
Paid Time Off
Competitive base compensation, plus bonus potential
Casual work environment and office in the Mission district of SF
Flexible scheduling
Paid parking available
TO APPLY:
Please thoroughly read the position description and company website before sending resume.
Please email your resume and cover letter with "DMC" in the subject line.
Local candidates only, please.
Qualified resumes with cover letter will receive notification of receipt.
Please do not send your resume to the Devlin McNally directly.
Lisa K. Locke
Locke and KEY Recruiting, Hiring and Consulting Services
We are the source of your hire power.
Mail: P.O. Box 2873, Alameda, CA  94501
Phone 510-533-2005
Email to send resume/cover letter: lklocke@lockeandkey.com
Web: http://www.lockeandkey.com
Flexible recruiting solutions for your KEY hiring needs
LinkedIn: http://linkedin.com/in/lisalocke; if you would like to connect, please invite me.
Keep our number for the next time you need candidates. We help companies hire people.